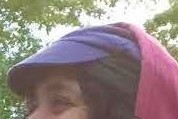 PHOTO: The image of this hat on the missing person's flyer was key in helping an observant person identify a Jewish woman who had been missing for four days.
A woman who had been missing since Oct. 8 was found safe on Oct. 12 and is back home with her family in SW Portland.
The Jewish Review was one of a multitude of Jewish groups and individuals who distributed a flyer to find the 51-year-old woman, who was thought to be disoriented and in need of her medicine. The multiple online posts and emails worked. Jean Mullin, who had seen the post on NextDoor, saw the woman walking not far from her home.
"I was at the right place at the right time," says Mullin, who said she usually skims NextDoor, but this post "struck my heart. ... I'm so relieved for her family."