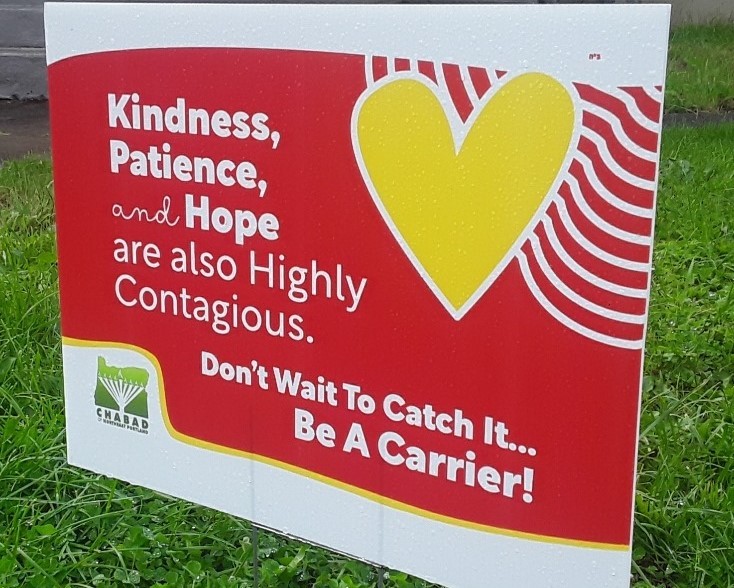 NE Chabad spreads good vibes & positivity
Rabbi Chaim Wilhelm of Chabad of Northeast Portland says he knows when he does something to make a difference, it is also helpful to him. He's seen a similar reaction from the volunteers in the group's Chesed Connection. "Volunteering makes people happy," says Rabbi Chaim.
But with the pandemic and stay at home the order of the day, he says, "People want to make a difference, but there are not many ways to do it right now."
"We created these Good Vibe Lawn Signs to give out to friends and neighbors, and the response has been really positive," says Rabbi Chaim.
Though NE Portland Chabad started distributing the signs before the killing of George Floyd, he says, "People have expressed more interest in the signs since the protests started. People are looking for positive messages."
In addition to the upsurge in interest in signs, he says volunteers for the 1½-year-old Chesed Connection have surged, too. 
Chesed Connection delivered about 100 seder-to-go packages, funded in part by the Community Crisis Campaign. Since then, volunteers have delivered Shabbat-to-go packages of challah, soup and dessert to about 40 homes each week. To make or request a delivery, email rabbi@jewishnortheast.com.
To receive a lawn sign, visit JewishNortheast.com/lawnsign.
Joe won't be at Café at the J when it reopens
(UPDATE: Joe Mussabini passed away July 26, 2020)
Mittleman Jewish Community Center members and visitors are likely to notice someone missing when they stop by the Café at the J when the café reopens (it didn't reopen when the J did June 19, though kosher meals can be ordered online).
If you've spent any time in the café, you probably know Joe Mussabini, who likely greeted you, asked what he could get for you or wanted to know how your day was. "He dedicates his life to taking care of other people," says kosher caterer and café owner Allen Levin, Joe's friend of more than four decades.
Earlier this year, Joe was diagnosed with ALS, also known as Lou Gehrig's disease. Unfortunately, his symptoms have progressed rapidly in the last several months. Joe is now at home with his wife, Amy. His presence will continue to be felt however; the MJCC is naming the seating area nearest the counter and window overlooking the pool "Joe's Corner." 
Joe grew up in Egypt, spoke five languages (Arabic, Greek, Italian, French and English) and played semi-professional soccer in his 20s – first in Sweden and then South Africa. He eventually began working as the maître d' and public face of a five-star hotel in Durban, then for a renowned hotelier who sent him on a trip to America. 
In 1978, Joe met Allen, and the two worked together running several restaurants and even a popular Los Angeles nightclub named Marbles, which was frequented by movie stars and other celebrities.
"He is so charismatic. And anything he does, he does well," says Allen. For example, Joe played squash late in life and placed second in his age division in the U.S. Professional Squash Championships. 
A GoFundMe page has been set up to help Joe: gofundme.com/f/hmnpn-joe039s-family
COVID Emergency Fund is helping community
The Greater Portland Jewish Community COVID Emergency Fund, a joint project of the Jewish Federation of Greater Portland and the Oregon Jewish Community Foundation, has raised $867,000. 
Last week two additional grants were awarded: B'nai B'rith Camp for $45,500 (their grants now total $84,000) and NCSY for $1,800 (their grants now total $6,800). 
The campaign now has provided grants of more than $697,000 to 36 Jewish organizations across the State of Oregon and Southwest Washington.  
The pandemic continues to challenge Jewish organizations and individuals. To help meet a $50,000 match from an anonymous donor, donate at jewishportland.org/covid19relief.
Shaarie Torah members randomly get challah
Congregation Shaarie Torah rolled out a fun, sweet project on June 12 in partnership with the Challahman (Rich Meyer). Each Friday, 10 Shaarie Torah households are being surprised with challah deliveries. 
So recipients know where the gift is from, a note is attached to the challah. For each loaf delivered to Shaarie Torah members, Challahman donates a loaf to the Holocaust Survivors program of Jewish Family & Child Service.
Shaarie Torah Executive Director Jemi Kostiner Mansfield says, "We decided to launch this to give people stuck at home an extra burst of love and support from the shul and to (hopefully) sweeten their Shabbat. 
Eden Village West offers free virtual summer camp programs 
Ordinarily an organic farm-to-table Jewish summer camp, this year Eden Village West,  edenvillagewest.org, has created a free remote program, Eden HOME(in)STEAD.
HOME(in)STEAD provides inspiration to get kids outside, making things, experiencing nature, and connecting with each other – all the best parts of the Eden Village homestead ethos.
"Our goal is to bring the spirit of Eden Village into the homes, backyards, and imaginations of your families," says Nava Sherwood, Operations Manager of Eden Village West.
From June 28 to July 17, Eden Village will share almost 60 free programs that are geared toward the diverse learning styles, social styles and interests of 2nd- to 11th-graders. 
Most programs are drop-in and will remain accessible online throughout the summer. Check out edenvillagewest.org/homeinstead for a schedule and description.