To see obituaries, click obituaries.
Please submit your life-cycle news. Many people have clicked on this link hoping for news in this era of social distancing. So share your good news so people can kvell with you. Submit information for births, b'nai mitzvah, engagements, weddings, anniversaries and landmark birthdays to editor@jewishportland.org.
ENGAGEMENT
Oren-Fowler
When Rabbi Gary Oren proposed to Allison Fowler, it wasn't a total surprise.
Just a few weeks before, they had watched "When Harry Met Sally" together. When Harry said to Sally, "When you realize you want to spend the rest of your life with somebody, you want the rest of your life to start as soon as possible," Gary leaned over to Allison and said, "that's right."
They actually had talked about getting married the first week they were dating. It was clear right away that they were similar in all the important ways, had fun together, laughed all the time and had a chemistry that has just grown and grown.
The couple went on the March Jewish Federation trip to Israel. It was their first time away together, and they were without kids and animals and had so much fun seeing Israel. It was Allison's first time in Israel. Gary had lived there and is fluent in Hebrew, so it was great for them each to see Israel through the other's eyes. Their hotel in Jerusalem had a deck and overlooked the old city walls and just before Shabbat on March 24, Gary proposed.
Gary is the rabbi of Congregation Shaarie Torah.
They live in Lake Oswego, and the wedding is planned for late summer.
ANNIVERSARY
Arnold & Elaine Cogan
Arnold and Elaine Cogan celebrate their 70th wedding anniversary on Dec. 21, 2022.
The couple have three children, all of whom live in Portland, Mark (and wife, PJ) Cogan, Sue (and husband, Bob) Van Brocklin and Leonard Cogan. They have six grandchildren: Elizabeth, Kate, Meg, Joshua, Annabelle and Rodrigo; and two great-grandchildren, Jovie and Remy.
Arnold was originally from Bath, Maine, and Elaine was born in Brooklyn, N.Y. Both of their families moved to Oregon when they were young.
"Arnold and I met when we were juniors in high school – he at Grant, I at Lincoln – and were married when we were juniors at Oregon State," says Elaine.

Their wedding ceremony was held at Congregation Tifereth Israel, which later became part of Congregation Shaarie Torah.
Elaine was the first woman president of Congregation Neveh Shalom, and Arnold became president of the congregation a few years later.
Arnold was the first statewide Director of Land Use Planning under Governor Tom McCall, was a member of the Environmental Quality Commission, and served as the first executive director of Oregon's Land Conservation and Development Commission. He was also the first planning director of the Port of Portland. He was honored as Planner of the Year by the Oregon Chapter of the American Planning Association.
Elaine served as editor of the Portland Jewish Review and as president of the League of Women Voters. Elaine is the author of You Can Talk to (Almost) Anyone about (almost) Anything, a Speaking Guide for Business and Professional People. She wrote a weekly column for The Oregonian for 15 years and provided political commentary on local TV for several years. She was a close advisor to various elected officials. Mother's Bistro named her a Mother of the Month, during which it shared some of her favorite recipes.
In addition to their independent careers, the two served many clients through the consulting firm they cofounded. Elaine and Arnold have always been very active in community affairs through the Oregon Jewish Museum and Center for Holocaust Education and the Portland City Club. Even in their retirement, they remain engaged in community activities, and are patrons of the performing arts.
Mazel tov to the Cogans!
ENGAGEMENT
Fischer-Solomon
Rabbi Tzvi and Esther Fischer are delighted to announce the engagement of their daughter, Rachelly, to Eli Solomon, son of Rabbi Yonah and Ellen (Elkie) Solomon of the Valley Village neighborhood of Los Angeles. 
Rachelly, 21, lives with her family in Detroit and works as a benefits specialist for LTC, a medical benefits company in New Jersey. Eli, 24, lives in the New York area, where he attends the Woodlake Yeshiva, a rabbinical yeshiva. A Jan. 26, 2023, wedding in Lakewood, NJ, is planned.
The Fischer family lived in Portland from 2006 to 2021, where Rabbi Fischer was head of the Portland Kollel, and both Rabbi and Esther Fischer helped establish Maayan Torah Day School.
WEDDING
Britt Rosenthal-Jake Barnett
Mazel tov to newlyweds Britt and Jake Barnett who were married on July 10 by Rabbi Eve Posen at the Sentinel Hotel in Portland.
Britt was born and raised in Portland and is the daughter of Todd and Felicia Rosenthal and the granddaughter of
Robert and Jeannie Rosenthal and the late Al and Evie Sugarman, all of Portland. She is the Recreation Operations Program Manager at the University of Portland.
Jake hails from Manchester,
England, and is the son of Lawrence and Annella Barnett and grandson of the late Arthur and Mildred Barnett and Sam and Leila Beckerman, all of Manchester. Before leaving the United Kingdom, Jake worked as a business analyst.
The couple, who met while both were on staff at B'nai B'rith Summer Camp, will make their home in Portland.
ANNIVERSARY
Albert & Esther Menashe
Albert and Esther Menashe celebrated their 50th wedding anniversary on June 11, 2022. The couple are members of Congregation Ahavath Achim, Portland's century-old Sephardic syanagogue.
BIRTH
Eitan Lev Nelson
Eitan Lev Nelson was born Saturday, May 28, 2022, at 11:14 am to Rachel and Jason Nelson. Eitan was welcomed home by big sister, Noa, and big brother, Asher. Noa and Asher attend Foundation School at Congregation Neveh Shalom.
The bris was June 4 at the home of proud grandparents, Fred and Nora Rothstein. Grandparents Daryl and Sandra Nelson live in Beaverton.
Rachel works at the Jewish Federation of Greater Portland and Jason works at Cambia.  
BIRTH
YISRAEL MENACHEM DISKIND
Yisrael Menachem Diskind was born on Feb. 14, 2022, to Rabbi Boruch Dov and Frumie Diskind, and joins loving siblings Chayala, Tzvi, and Yehuda.  
Rabbi Diskind is the director of administration and programming for the Portland Kollel; Frumie Diskind is a lead teacher at Maayan Torah Day School.
ENGAGEMENT
Jonathan Singer-Rebecca Siegel
Jonathan Singer of Portland and Rebecca "Becca" Siegel of Mountain View, Calif., are engaged to be married. The couple happily got engaged Feb. 12 when Singer proposed while on vacation in Carmel, Calif. 
Singer, a Berkeley Law and Pomona College graduate, is a fifth-generation Oregonian who runs his own commercial real estate law firm. He is the chair-elect of the Oregon Jewish Community Foundation and secretary of Portland Jewish Academy and Mittleman Jewish Community Center. Siegel, a graduate of the University of Washington, is a senior program manager in diversity, equity and inclusion at a major tech company and serves as a member of the Young Adult Leadership Committee at Congregation Emanu-El in San Francisco. 
Singer is the son of Peter Singer and Sharon Stern, and grandson of Jerry, z"l, and Helen Stern and Anne, z"l, and David, z"l, Singer, all of Portland.  Siegel is the daughter of Caryn and Mark Siegel of Redwood City, Calif., and granddaughter of Joyce, z''l, and Arthur, z''l, Joseph of Teaneck, N.J., and Carol, z''l, and Daniel, z"l, Siegel of Pasadena, Calif. 
The couple met on Lox Club, a Jewish dating app. It didn't hurt that his rescue dog is named Bagel and her rescue cat is named Izzy, after Palo Alto's best bagel shop.
ENGAGEMENTS
Eitan Northman-Simone Marocco
Ms. Holly Litwin and Mr. Tod Northman of Shaker Heights, Ohio, are thrilled to announce the engagement of their son, Eitan Northman to Simone Marocco. 
Eitan is a junior at Yeshiva University.  He enjoyed a wonderful childhood in Portland surrounded by the love and support of the Jewish community at Maimonides Jewish Day School and Congregation Kesser Israel. The Litwin-Northman family lived in Portland from 1994 to 2011. 
Simone attends Yeshiva University's Stern College For Women. She is the daughter of Mrs. Karen and Dr. Avi Marocco of Beachwood, Ohio. Eitan and Simone met when they became classmates in sixth grade at the Fuchs Mizrachi School.  They plan to marry on Sunday, June 12, 2022, in Chagrin Falls, Ohio.
Alex Mansfield-Shani Plunkett-de la Cruz
Greg and Jemi Kostiner Mansfield are thrilled about the engagement of their older son, Alex, to Shani Plunkett-de la Cruz, daughter of Celeste de la Cruz. Kvelling grandparents are Tony and Priscilla Kostiner.
Alex is a member of the Life Enrichment team at Cedar Sinai Park and teaches Hebrew and Jewish studies at multiple congregations in town. 
Shani works with Providence Healthcare in insurance verification. 
They will be married at 2:22 p.m. on Feb. 22, 2022, at Congregation Beth Israel. 
MAZEL TOV 
Aliza Zeff
Aliza Zeff, daughter of Laurie and George Fendel of Portland, is the incoming Director of Tichon Ramah Yerushalayim. TRY is a spring semester study abroad program for high school students, located in Jerusalem.
Aliza is a graduate of Wilson (now Ida B. Wells) High School in Portland, the American Jewish University and Bank Street College of Education.
In addition to working for many summers at Camp Ramah in the Poconos, Aliza served as TRY's interim Director of Academics in 2019 before taking on the position permanently. She lives in Jerusalem with her husband and four children.
For more information, contact Aliza at alizaz@ramah.co.il or read about the program at try.ramah.org.il.
BIRTH
Shimon Yehuda Spivak
Shimon Yehuda Spivak was born Nov. 24, 2021, to Rabbi Chanan and Meira Spivak. Rabbi Tzvi Fischer, who founded the Portland Kollel with Rabbi Spivak in 2006, flew in from Detroit to perform the bris on Dec. 1.
ENGAGEMENT
Shana Meyer-Michael Barta
Marcia and Mark Meyer are delighted to announce the engagement of their daughter, Shana, to Michael Barta, son of Sandy and Thomas Barta of Warren, New Jersey. Shana is the granddaughter of Lora and the late Jim Meyer, z"l, and Eleanor and the late Sheldon Halpern, z"l.
ENGAGEMENT
Jonah Rothstein-Leah Elkaim
Caron and Ari Rothstein of Portland are delighted to announce the engagement of their eldest son, Jonah Eliezer Rothstein, to Leah Judith Elkaim, daughter of Isabelle and Michel Elkaim, recent olim to Modi'in, Israel, formerly of N. Hollywood, Calif., and France. Grandmothers Nancy Rothstein of Portland and Nelly Kahloun of France are also kvelling. Jonah and Leah met in Israel and recently graduated with degrees in Government and Sustainability from Reichman University-International School in Herzliyah, Israel. They are living in Portland and plan a 2023 wedding.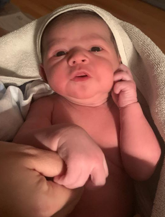 BIRTH
ORION BACHARACH 
Orion Bacharach, was born at home just after midnight, Saturday, August 21, to Ariel and Janique Bacharach. Orion was 8 lbs. 9oz, 21 inches. Both Janique and Orion are doing well. 
Orion is welcomed home by brothers, Gideon (5) and Adrien (3). Rabbi Gadi Levy, who performed Adrien's brit, returned from Chicago for Orion's brit.
WEDDINGS
ALEX PERRIN-JOSIAH HAMOVITZ
Alex and Josiah Hamovitz were married on Aug. 22 at Horning's Hideout. 
The couple will live in Portland. Josiah works in restoration ecology, and Alex is an instructional assistant at Portland Jewish Academy, from which she graduated. She hopes to pursue a career in wildlife rehabilitation/conservation in the near future. 
Both Alex and Josiah are graduates of the University of Oregon. Alex is the daughter of Jon and Susanna Perrin. 
DEVORAH BRODKIN-EZRA EPSTEIN
Devorah Brodkin, daughter of Rabbi Ken and Aviel Brodkin of Congregation Kesser Israel, married Ezra Epstein of Bergenfield, N.J., on Aug. 22, 2021. 
The couple married in Baltimore and will be residing in Silver Spring, Md., where they met. Ezra will be studying for his rabbinic ordination as he prepares to work in Jewish education. Devorah is currently pursuing an MBA while working for the Kemp Mill Synagogue. 
Ezra's family has old Jewish southern roots from before the Civil War. His extended family enjoyed spending Shabbat Sheva Brachot in Portland, getting a taste of the Pacific Northwest. 
BIRTH
CHARLIE SHEM TOV ROHR
Charlie Shem Tov Rohr was born July 1, 2021, to Brian and Sarah Rohr of Portland. He was welcomed home by older brother Gabriel.
Everyone is healthy, happy, and full of love. In addition to being members of Congregation Neveh Shalom, Brian is Neveh Shalom's communications coordinator, and both Brian and Sarah teach in Neveh Shalom's ALIYAH program.
Charlie was welcomed formally into the community at Neveh Shalom on Thursday afternoon, July 8.
BIRTHS
TZVI ELIMELECH AVROHOM SPECTOR
 
Tzvi Elimelech Avrohom Spector was born on June 6, 2021, to Shifra and Max Spector. He was welcomed by big sister, Masha; grandparents, Gabriala Brown, Sharon Pollin, Marshal Spector and Shari Levinson; and great-grandparents, Harold and Jane Pollin. 
The bris was June 14 at Congregation Kesser Israel. Tzvi is named after his paternal great-grandfather, Rabbi Harry Spector, z"l, who bravely retained his Jewish identity after escaping Nazi Germany as a child; after his maternal great uncle, Abe Pollin, z"l, an owner of a Washington, D.C., sports teams and a model of philanthropy; and after the Skulener Rebbe, Harav Yisrael Avrohom Portugal, zt"l, a Hasidic leader who passed away in 2019.
NEIMA TOVA SKOLNIK
Rabbi Sholom and Chaviva Skolnik welcome a new daughter, Neima Tova, to their family. She joins her three older sisters, Freida Leah, 10, Sarah Ita, 5, and Ahuva Bracha, 1½. She was named after services at Congregation Ahavath Achim June 19, 2021. Rabbi Skolnik, who previously taught at Mayaan Torah Day School, is now the Rabbi of Ahavath Achim. 
ENGAGEMENTS
ALEX PERRIN-JOSIAH HAMOVITZ
Alexandra Perrin of Portland is engaged to Josiah Haimowitz. Alex is the daughter of Jon and Susanna Perrin of Portland Oregon. Josiah is the son of Bruce and Amy Hamovitz, Pleasant  Hill,  Oregon 
Alex graduated with the Portland Jewish Academy Class of 2009.  The two met at the University of Oregon.  The Perrins and Josiah are members of Kesser Israel. The wedding will be in August 2021 at Horning Hideout in North Banks, Ore. 
WEDDING
MIRIAM LAMBERT-MATYS WEISER

Congregation Kesser Israel wishes mazel tov to Miriam Lambert and Matys Weiser on their wedding Sunday, June 20, 2021, in Ellenville, N.Y. 
Miriam Lambert, age 42, is a member of Congregation Kesser Israel. She was born and raised in Eugene and has lived in Portland since 2007. She is a medical physicist employed by Kaiser Permanente.
Matys Weiser, age 54, is a member of the Hasidic community in the Catskills, N.Y. He immigrated to the United States from Poland in the mid-1990s and is an entrepreneur.
Following the ceremony, the couple will drive cross country back to Portland, with stops for adventure in the national parks along the way. They wish to thank the community for their generous outpouring of support and good wishes, and they look forward to many wonderful years to come.
Births
ZACHARY NOAH FRANK
Debra Anne Frank announces the birth of her son Zachary Noah Frank born March 20, 2021.
His grandparents are Diane and Richard Frank of Mobile, Ala. 
Zac's brit milah took place at Debbie's home in Portland this past weekend and was led by her dear friend of 25 years Rabbi Elizabeth Dunsker of Congregation Kol Ami in Vancouver, Wash.

GABRIEL & BENNET WEINER
Congregation Neveh Shalom members Marla and Bob Weiner announce the birth of twin grandbabies, Gabriel and Bennett, born on Jan. 16, 2021. The parents are Matt and Mairin Weiner, the big sisters are Natalie and Sarah, and the big brother is Ryan. Other grandparents are Mike and Pam McCarthy of Livermore, Ca.
90th BIRTHDAY
GEREL BLAUER
Gerel Blauer celebrated her 90th birthday Jan. 30, 2021. Her daughters, Janis, Shoshana, Shemaya and Karen, joined her for brunch in her well-ventilated "salon," which she created in her garage to permit her to host family during COVID restrictions.

"It's only a number," says Gerel of turning 90. 
Gerel is an avid gardener and played tennis from her teens until she broke her ankle about two years ago. Though she says her ankle is fine now, she has not returned to the courts since the Irvington Tennis Club she belongs to has been closed during the pandemic; and she admits she would need to be sure her balance is still up for the quick turns of tennis.
She still lives in her home of 58 years, which she shared with her husband, Henry, until his death in 2012. She still cares for the garden at Cedar Sinai Park that bears his name. For about 15 years, she cared for Robison Home's eight gardens, until they were removed during construction of CSP's four new households.
Gerel attributes her longevity to being active and getting out in nature. "I've been a gardener for many, many years. I do hard gardening – I dig."
She attended B'nai B'rith Camp as a child. For most of her life, she has been active at Congregation Beth Israel, including taking an active role in the Temple Sisterhood. She has also been active at the Mittleman Jewish Community Center and Portland Jewish Academy. She served a term on the Robison board. She also volunteers in the archives for the Oregon Jewish Museum and Center for Holocaust Education (before COVID closed the building for much of the last year). She also spent 40 years as a tour guide for the Urban Tour Group, whic provides tours for schools designed to share the history, culture, architecture, and resources of Portland,
"I am a relic of Portland," says Gerel. Yom Huledet Sameach, Gerel, until 120!
50TH ANNIVERSARY
Donna and Charles Kuttner
PHOTO: Donna and Charles Kuttner just outside Jerusalem's Jaffa Gate during a 2018 visit to Israel. Photo courtesy of the Kuttner Family.
On Donna and Charles Kuttner's first date, she wasn't impressed.
That may have had something to do with her migraine, but a second date two weeks later made all the difference. "We talked and talked," Donna recalls, and the two Texas natives discovered similar tastes in movies and books – both even had a copy of Winnie Ille Pu, the Latin translation of A.A. Milne's children's classic.
A little over a year later, on Jan. 22, 1971, they married near Galveston, Texas, during a short break in Charles' medical school schedule. In the five decades since, they've had three additional weddings (Reform, Conservative and Orthodox) as Donna completed her conversion to Judaism, and as the couple grew increasingly more observant. 
Their religious journeys paralleled their geographic wanderings. They lived in San Francisco while Charles completed his residency in psychiatry, and there joined a Conservative synagogue. In 1976, when they moved to rural Linn County in Oregon, they joined Beit Am, the Mid-Willamette Jewish Community in Corvallis. And then in 1985, they joined Congregation Kesser Israel, though they didn't move to Portland until 2001. 
Charles, a psychiatrist for some 45 years, now works at Fanno Creek Clinic. Donna, who was a music teacher when they met, earned two additional master's degrees and a Ph.D. in public health from Oregon State University. 
For both of them, their journey together has deepened their appreciation of the concept of bashert, or "soulmate."  They appreciate each other for their commonalities and their differences, for the journeys they've shared together, and the paths they have yet to explore.
"Fifty years is a long time," Donna reflects.  "The only way you can make that work is to accept and respect the person for who they are, and who they will be as they change over time."
Both Donna and Charles were married, briefly, to others before they met. "You don't always pick the right answer the first time," Donna says with a smile.
Their family includes daughter, Arwen, a Jewish day school teacher: her husband, Uri Ruttenberg; and granddaughter, Naomi, 14, in Englewood, N.J. Charles' son, Jason, a clinical supervisor for a firm providing mental health services to adolescent dependents of military families, and his wife, Carrie, live in Honolulu, and Jason's daughter, Io, 27, is working at a winery in Charlottesville, Va.
~Story by Sura Rubenstein
Births
ADAR SIMA ALPERT 
Adar Sima Alpert was born Oct. 31 to Elana and Zev Alpert, joining big brother Lavi. Her naming took place at Congregation Kesser Israel. Her middle name is in honor of Zev's paternal grandparents Sonia and Menachem Mendel Alpert, both Holocaust survivors, who built a family in New Haven, Conn. Mazal tov to the extended families in New Jersey and Israel.
YONAH RAFAEL SOHN
Yonah Rafael Sohn was born Nov. 12. He is welcomed by his parents, Amy and Adam Sohn, and two proud older sisters, Talia and Eliora. Yonah is named after his great grandmother. A Zoom bris was held where family and friends from near and far were able to welcome him. The family are members of Congregation Kesser Israel.
YAHEL LAWS
Yahel Laws was born Nov. 30 to Jared and Shani Laws. The bris was on Monday, Dec. 7, at the family home in Southwest Portland. Yahal joins brothers, Lavi, almost 2; Yahav, almost 4; and Moshe, almost 12. The Laws are members of Beit Yosef and Kesser Israel. Yahel was born on the third yahrzeit of Shani's grandmother, Devorah Rozenblum. Devorah,  who survived Auschwitz, had been the only member of her family to survive the Holocaust.
Wedding
ZACHARY LESCH-NINA SIMONS
Zachary Lesch and Nina Simons were married on Oct. 26, 2020, at the Oregon coast. 
Zachary is the son of Harold and Jackie Lesch and grandson of Gloria Bacharach, all members of Congregation Neveh Shalom.  Nina is the daughter of Hilga Simons of Colorado and the late Paul Simons. The newlyweds live in Southwest Portland. Zach is the owner/operator of The French Toast Connection in downtown Portland.  Nina works for Lake Oswego High School. 
A post-COVID reception will be planned. 
Engagement
MIRIAM LAMBERT-MATYS WEISER
Congregation Kesser Israel wishes mazel tov to Miriam Lambert on her engagement to Matys Weiser. 
Miriam Lambert, age 42, is a member of Congregation Kesser Israel. She was born and raised in Eugene, and has lived  in Portland since 2007. She is a medical physicist employed by Kaiser Permanente.
Matys Weiser, age 54, a member of the Hasidic community in the Catskills, New York. He immigrated from Poland in the mid-1990s and is an entrepreneur.
The couple plan to marry in the spring of 2021, in New York, provided the pandemic restrictions have lifted by then. If a large ceremony isn't possible, they may do a small family ceremony in Portland instead and delay the large reception until it's safe to gather again.
Following the wedding, the couple plans to live in Portland, with frequent visits to Matys's family in New York for the chaggim and vacations.
Wedding
JONATHAN & TOSHA ESTERMAN
Mazal Tov to Yonasan Aryeh (Jonathan Esterman) and Tirzah Miriam (Tosha Esterman) on finishing their conversion with the Milwaukee Beis Din and on their wedding that took place on 4 Elul 5780, August 24, 2020, in Portland. 
Tosha works as an educator at Maayan Torah Day School and Yoni writes about Judaism and Semiotics at YidBrik, podcasts about Kabbalah on Kabbalah Pod and makes Kabbalistic jewelry for sale on Etsy. Both of them also have their own coaching practice, Aytz Chaim Life Coaching. 
The chuppah ceremony was officiated by Rabbi Ken Brodkin of Congregation Kesser Israel. While the Estermans would have loved to have a larger wedding for the community, the current COVID-19 restrictions required a more creative approach. They invited up to 25 for attendance in person with face masks and social distancing for a backyard ceremony with picnic-style meal. Everyone else, including attendees in New York and Israel, dialed in via Zoom.
The Estermans moved into the community more than three years ago and have made the Jewish Portland community their home. This ceremony symbolized a completion of settling in for them, and they are excited to continue to connect in this community and continue to grow. 
For those that were unable to attend the wedding in person or online, the ceremony was recorded and can be viewed at
https://yidbrik.com/wedding
. 
Births
HEIMS/PACHOLL
Congregation Beth Israel wished Mazel Tov to Carly Heims and Zak Pacholl on the Feb. 9 birth of Alana Naupakakai Celia Pacholl in Maui. Kvelling grandparents are Lynne Bartenstein and Dan Heims.
MARTEL
Congregation Beth Israel wished Mazel Tov to Gary and Sheryl Martel on the birth of their granddaughter, Natalie Florence Martel, to Benjamin and Rachel Martel on April 7.
WEISS
Congregation Beth Israel wished Mazel Tov to Marcia and Stuart Weiss on the birth of their grandson, Arthur Joseph DePasse, on April 28.
MOSHE HARTFORD
Moshe Yitzhak Hartford was born May 5, 2020, to Adam and Seanne Hartford. He was welcomed home by big sister Elianna. The family belong to Congregation Kesser Israel. A Zoom bris was held May 12.
ZISSEL BIALO
Zissel was born May 20 to Rabbi Dov and Chani Bialo of Chabad at Reed and Chabad ofo Southesst Portland. She was the first grandchild to be named after Chani's dear Bubbe.
Wedding
BLOOM-ABU
Mazel Tov to Melissa Bloom (Aloha, Ore.) and Oren Abu (Kiyrat Malakhi, Israel) on their wedding on May 12, Lag B'Omer. Guests were able to join in virtually from all over the world for their backyard celebration.  
Melissa owns Yo Zone frozen yogurt in Beaverton, and Oren hopes to go back to work as a mechanical technician for Intel. 
The chuppah ceremony was officiated by Rabbi Menachem Rivkin of Chabad of Hillsboro and Rabbi Chayim Mishulovin from Everything Jewish.  Rabbi Motti Wilhelm of Chabad of SW Portland and Rabbi Shneur Wilhelm of Maimonides Jewish Day School also participated.
Melissa and Oren had planned to have their chuppah in Israel.  When the pandemic broke out they realized, "We do not know what tomorrow brings, and we want to bring joy to our friends and family."  The decided that to wed on Lag B'Omer (the earliest date one can have a Jewish wedding after Pesach). 
Within three weeks they turned their back yard into a beautiful site for the wedding.  Their sukkah was painted white to make the chuppah; table and chairs from the closed Yo Zone were arranged to seat guests 6 feet apart; and Melissa used her extensive event-planning decor.  There were a few things bought online including Oren's suit and Melissa's wedding dress.
Following the Zoom wedding (with more than 200 people) Melissa and Oren went to the driveway where more than 20 cars came by to shower them with Mazel Tov. After a quick bite to eat, the newlyweds joined Chabad of Oregon's  Lag B'Omer car parade.
"It was everything and more that we could have dreamed and hoped for being a Zoom wedding. ... We have no regrets and loved that we brought joy to so many that day and will have an amazing story to tell our children one day."
Mazel tov to Melissa's parents Michael and Jaimee Bloom, siblings Liza and Beth Milliner, Scott and Amy Bloom, Jeramie Bloom and Andrew Thorry (Portland); to Oren's family Zmira and Mier Abu, siblings Oriana and Angelo, Shay and Eniav, Alon, Shira and Sharon, Shlomit and Esaf, and Tzil (Jerusalem, Petah Tiqva, Kiyrat Malakhi, Israel); as well as their 14 nieces and nephews.  
B'nai Mitzvah
Submit: name, date, congregation (or loction) and parents' names.
Engagements
Submit: names, city, congregation (or loction), date and parents' names.
Anniversaries
Submit: names, city, congregation and number of years celebrating.