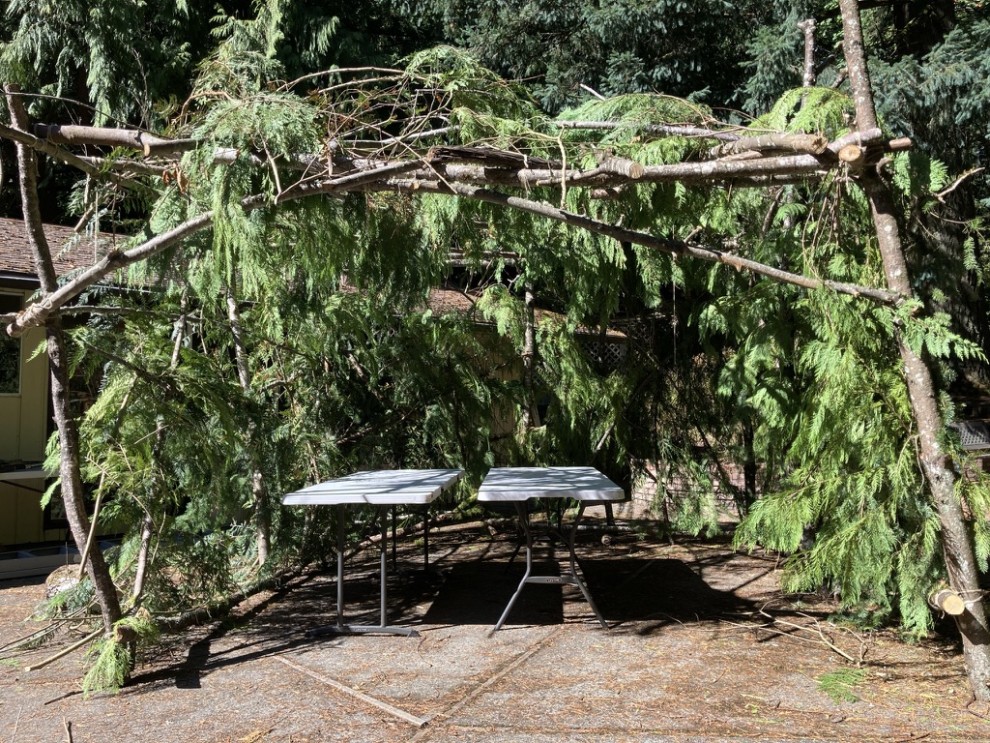 COME AND HELP BUILD A "SUKKAH OF THE FOREST," IN THE FOREST
Gesher invites you to join Master Sukkah Builder, Scott McKinley and Rabbi Laurie Rutenberg of Gesher, who was trained by Scott last year, in building Gesher's Unique Tree Limb and Jute Bound Sukkah. There will be no nails or screws, and no lumber. The tree limbs all come from Rabbi Gary's and Rabbi Laurie's property. Scott McKinley, Master Sukkah Designer, with many years of experience  bringing the beauty of nature into Jewish life, will be our guide.
We will be working most of the day, from 9:30 am until about 6 pm.   Let us know when you are interested in coming for an hour or a couple of hours.  We will welcome you at any time.  Strong muscles, creative minds, math skills,  lashing skills or desire to learn to lash are all welcomed.
Questions and RSVP by email  - gesher@comcast.net or phone to Rabbi Laurie - 503 246-5070.
We hope that you will also return to Gesher during the holiday of Sukkot, to enjoy a meal and Sukkot celebration with us.   (We are hoping that the pizza oven that Rabbi Gary is constructing will be ready by then.)